Over 30 years of experience in protecting South-East Queensland
PEST CONTROL FOR A HEALTHIER, SUSTAINABLE FUTURE
We provide bio-degradable pest control services for a cleaner and safer home for your family. Our products are completely safe for kids, pregnant women, allergic persons and animals.
We will solve your pest problems
 Our bio-degradable pest control products have been found to be deadly against almost all pests and what's more, they are safe for use around children, allergy sufferers, pregnant women, animals and even plants!
Covers management of rodents, Spiders, Cockroaches, Ants, Silver Fish and Fleas.
Organic Pest Control undertake professional timber pest and termite inspections to determine not only whether or not you have termites or timber pests but the susceptibility of the property to timber pest infestations.
All Organic Pest Control technicians have undertaken the National Red Imported Fire Ant Eradication Training Program and know the most effective ways to treat for fire ants.
Organic Pest Control can offer treatments for the most common Lawn Grubs, Armyworm (Spodoptera Maurita), Sod Webworm (Heptetogramma licersisalis) and African Black Beetle adults (Heteronychus arator).
Organic Pest Control uses a variety of environmentally sensitive techniques to achieve complete control of your cockroach situation. The insecticides and formulations used by us depends upon the variety of conditions.
Accreditations, Memberships and Certifications
We are accredited and certified by leading pest control companies. We train and update ourselves with latest techniques and standards on a regular basis.
At Organic Pest Control, our preferred products are a safe & effective means of pest control! We use a completely biodegradable product derived from the Chrysanthemum Daisy Flower, which is safe and at the same time very effective against cockroaches, spiders, silverfish, ants, fleas and a range of other pests!
Control the pests before they take control of your home! Call on our experienced team for using a professional pest control program tailored to suit your individual needs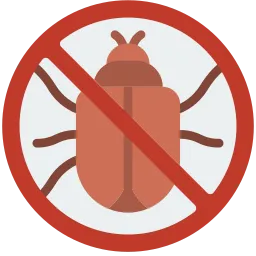 Our customers show their appreciation in their 5 star reviews